---
VENUS IN FURS
Piero Heliczer, 16 mm, color, 21 minutes, silent with sound on tape, 1965
Featuring : Julie Garfield, Barbara Rubin, Chas Stanley and Margaret Boyce Cam, Lou Reed, John Cale, Angus MacLise and others.
Original soundtrack by The Velvet Underground. Tape speed: 7.5 ips.
Venus In Furs has been restored and digitised by the EYE film museum, Amsterdam. It was showned at The Velvet Underground | New York Extravaganza exhibition at La Philharmonie in Paris on July 1, 2016 as part of a special program Nocturne. Also as part of the Beat Generation : Piero Heliczer event at Centre Pompidou in Paris, on October 1, 2016.
The Making of an Underground Film, a report about Piero Heliczer's film Venus In Furs, with the Velvet Underground performing Heroin, Heliczer joining in on saxophone was broadcasted on December 31, 1965 in the CBS Walter Cronkite Show. The screencaps below are from this TV report.
There is also a series of photos, shot on the film set by Adam Ritchie, which have been published in various books/magazines - see: Adam Ritchie Photography.
Also available in:
Les Inrockuptibles Hors Série | The Velvet Underground (p. 62-63).
White Light/White Heat | The Velvet Underground Day-By-Day book (1 b&w photo, p. 62-63).
The Velvet Underground | New York Art (p. 20, 21, 22-23, 26, 27, 28, 29).
The Velvet Underground | An Illustrated History Of A Walk On The Wild Side (p. 30-31, 32-33).
MOJO magazine, 193, December 2009 (p. 118).
UNCUT magazine, Take 151, December 2009 (p. 48-49, 51).
The Velvet Underground & Nico | 45th Anniversary Super Deluxe Edition 6CD (2 photos, p. 8)
les inRocKs 2 | The Velvet Underground, 2016 (1 photo, p. 4-5)
les inRocKuptibles No. 1061, March 30-April 5, 2016 (1 photo, p. 62)
The Velvet Underground | New York Extravaganza catalog, 2016 (5 photos, p. 8, 94-96)
"Sound engineer: CBS-TV News. This companion film to Satisfaction is set as the opposite solstice and recapitulates part of Dirt. With Julie Garfield and Barbara Rubin (as Nuns), Chas Stanley (as Death) and Margaret Boyce Cam (as the Nurse), Lou Reed, John Cale, Angus MacLise and others. A chess game under the bridge becomes a Christmas party in Hell. A must for lepidopterists" - Piero Heliczer
"Previously shown one night per week to club or subscription audiences, 'The Bridge' attractions become Gotham's 'hip evenings at the bijou', as jet setters smuggled friends into screenings to watch each other. Whether or not regular full week showings will trim the glamor now that 'anybody' can view Venus In Furs Meets The Velvet Underground is conjonctural. Latter sample is part of the Bridge's first program dubbed 'Obsessions' skedded March 9 through 15 and is described as 'where a nun and nurse go to hell because of their sinful life in St. Vincent's Hospital." - Variety
"In November, 1968 Heliczer filmed The Velvet Underground performing for his film Venus in Furs, an experimental film shot on 8mm. At one point in the film Heliczer himself is seen on camera playing the Saxophone with the band. The film was originally shown to "insider" audiences at The Bridge Theatre (also known as The New Bowery Theatre), St Mark's Place, Manhattan. In the following year, 1969, the film was screened at the Eight and a ½ New York Film Festival, an event organised by Jonas Mekas at New York City's Elgin Theatre. Mekas described Venus in furs as "cheerfully anarchic…yet personal(ly) lyrical."" - eye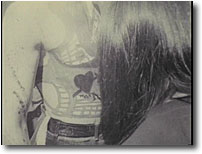 ---
MORE MILK YVETTE
Andy Warhol, November 1965
Featuring: Mario Montez, Paul Caruso, Richard Schmidt.
Music: The Velvet Underground is sometimes credited but More Milk Yvette does not have the Velvet Underground in it, nor their music. This is a mistake traceable to the original Cinematheque ad in the Village Voice from February 1966 - the copy for which was apparently provided by some uninformed Factory person who mixed up Hedy and More Milk Yvette.
---
THE VELVET UNDERGROUND REHEARSES
Danny Williams, B&W, 16 mm, 10 minutes, January 1966
Notes: actually 2 short movies (The Velvet Underground and The Velvet Underground Eat Lunch) which feature "the impossibly young-looking, pre-fame band rehearsing and clowning around". A few seconds were used in Esther B. Robinson's A Walk Into The Sea - Danny Williams and the Warhol Factory film.
Review:
"For fans of the popular band, this is a true piece of history: it is probably the first visual record of The Velvet Underground, when they had been together for around a year. Very young versions of Lou Reed, John Cale, Maureen Tucker and Sterling Morrison are rehearsing at Warhol's layer in January of 1966, while Gerard Malanga shows us his dancing moves. These were the days that saw the birth of the Exploding Plastic Inevitable (EPI), a multimedia show the band and Warhol toured across the United States. Danny Williams captured images in 1966, but he never developed them. That task was only recently done by his niece, Esther Robinson, in 2003. Thanks to her work, we get to see the type of on camera montage the director liked to develop; we also get to understand how short films were the artist's first visual step towards conceiving the elaborate lighting effects he designed to go along with EPI."- Sanfic4 (Santiago Festival Internacional de Cine) program
---
UPTIGHT #3 -- DAVID SUSSKIND
Edited by Danny Williams, Photographed by Danny Williams and Barbara Rubin , 60 minutes, January 1966
"During the early days of the Velvet Underground's collaboration with Andy Warhol, they began to experiment with multi-media performances called "Andy Warhol's Uptight," a predecessor to the Exploding Plastic Inevitable shows that were staged later in 1966. Around this time, a series of films were shot, possibly for use as background projections in the shows. This reel, recently discovered and restored, is the only one that was edited into a finished form. It was shot on January 27 & 28, 1966, and chronicles the appearance of the Velvet Underground on David Susskind's television show, long before they signed their record contract or were known to almost anyone. The footage, shot by VU light-show engineer Danny Williams and young experimental filmmaker Barbara Rubin (Christmas on Earth), includes scenes in the television studio and travelling on a bus. Besides the band, the "cast" includes many notable faces from the New York avant garde underground and Warhol's entourage, including Tuli Kupferberg and Ed Sanders of the Fugs, Angus Maclise, Gerard Malanga, Paul Morrissey, and many more.
Danny Williams, who edited the footage shot by himself and Rubin, is just emerging as a rediscovered, previously-unchronicled yet crucial member of the early Warhol/Factory circle. Williams' filmmaking career got an auspicious start with his work as an editor for the Maysles brothers (notably on their 1964 documentary WHAT'S HAPPENING! THE BEATLES IN THE U.S.). Soon after this he met Andy Warhol and became his boyfriend, moving into Warhol's Manhattan townhouse. He was put to work wiring the flashing, tension-inducing light shows that were a key element of the Velvet Undergound's performances, and also shot experimental reels using Warhol's own Bolex 16mm camera. These recently rediscovered films reveal an expert manipulator of in-camera editing and stroboscopic techniques. At age 27, Williams mysteriously vanished after visiting his family in Massachusetts, his borrowed car found next to the ocean but his body never found. Danny Williams' full story is told in the excellent 2007 documentary A WALK INTO THE SEA: DANNY WILLIAMS AND THE WARHOL FACTORY, made by his niece Esther B. Robinson." - Secret Cinema - Velvet Underground Film Discoveries at Moore
---
HEDY (a.k.a. HEDY, THE SHOPLIFTER; a.k.a. THE 14-YEAR-OLD-GIRL)
Produced & directed by Andy Warhol, b&w, 16 mm, 70 minutes, February 1966
Dist. Film-Makers' Cooperative. March 3, 1966 [New York opening]
Featuring: Mario Montez, Mary Woronov, Harvey Tavel, Ingrid Superstar, Ronald Tavel, Gerard Malanga, Rick Lockwood, James Claire, Randy Borscheidt, David Meyers, Jack Smith, Arnold Rockwood.
Music soundtrack: John Cale and Lou Reed. Music performed by The Velvet Underground.
Notes: musical excerpts are available on Screen Test bootleg LP and CD. The complete 70-min soundtrack circulates as audio tape.
---
PARAPHERNALIA
Gerard Malanga?, B&W, March 1966
Notes: shot at Paraphernalia Store on Madison Ave in New York City. Excerpts used in various documentaries (i.e. South Bank Show, Curious, Dancing In The Street).
---
ANDY WARHOL'S EXPLODING PLASTIC INEVITABLE
Ronald Nameth, 16 mm, color and B&W, 22 minutes, August 1966
Featuring: The Velvet Underground, Gerard Malanga, Ingrid Superstar, Susan Pile, Edward Walsh.
Music: The Velvet Underground, Nico: I'll Be Your Mirror and European Son from The VU & Nico LP and It Was A Pleasure Then from Nico's Chelsea Girl LP, and two live songs from E.P.I. in Chicago 1966, Heroin and Venus In Furs, sung by Cale.
Notes:
A black and white Quicktime™ version is available on A Walk With The Velvet Underground Volume 2 unofficial CD box set.
An alternate version of this film was broadcasted on French TV channel Canal+ on August 26, 1990. That version is edited to 12 minutes and the soundtrack is different: Venus In Furs and Heroin are not the versions sung by Cale but those from the Columbus 1966 tape. Credits titles are also different (John Cale's name appears correctly spelled even though it was mispelled as 'John Cahill' in the 22-min version). I think that it was this shortened version which was shown at the Fondation Cartier exhibition in 1990.
The 12-minutes version was also broadcasted as part of Turn On, Tune In, Drop Out! collection of psychedelic movies on French/German Arte TV on July 3, 2007.
Review:
"To some extent the so-called psychedelic discotheque was to the cinema of the sixties what the Busby Berkeley ballroom was to the thirties. In a larger sense, however, they are by no means in the same class either socially or aesthetically. The Berkeley extravangazas, like Hollywood, were not places but states of mind. They generated their own ethos, their own aethetic. They answered an obvious need for escape from the dreary hardships of the times. Lifes imitated art. But thirty years later Hollywood had degenerated to the point that it was, at best, an initiation of an imitation. The spate of "hip" Hollywood films, which began to appear after 1966, was about as socially significant as the various Kennedy assassination "souvenirs", and was proffered with the same exploitive street-vending zeal. Like all commercial entertainement, these films were about something rather than being something, and so were the discotheques they imitated.
Andy Warhol's hellish sensorium, the Exploding Plastic Inevitable, was, while it lasted, the most unique and effective discotheque environment prior to the Fillmore/Electric Circus era, and it is safe to say that the EPI has never been equaled. Similarly, Ronald Nameth's cinematic homage to the EPI stands as a parangon of excellence in the kinetic rock-show ganre. Nameth, a colleague of John Cage in several mixed-media environments at the University of Illinois, managed to transform his film into something far more than a mere record of an event. Like Warhol's show, Nameth's EPI is an experience, not an idea.
In fact, the ethos of the entire pop life-style seems to be synthesized in Nameth's dazzling kinaethetic masterpiece. Here, form and content are virtually synonymous, and there is no misunderstanding what we see. It's as though the film itself has exploded and reassembled in a jumble of shards and prisms. Gerard malanga and Ingrid Superstar dance frenetically to the music of the Velvet Underground (Heroin, European Son, and a quasi-East Indian composition), while their ghost images writhe in Warhol's Vinyl projected on a screen behind. There's a spectacular sense of frantic uncontrollable energy, communicated almost entirely by Nameth's exquisite manipulation of the medium.
EPI was photographed on color and black-and-white stock during one week of performances by Warhol's troupe. Because the environment was dark, and because of the flash-cycle of the strobe lights, Nameth shot at eight frames per second and printed the footage at the regular twenty-four fps. In addition he developed a mathematical curve for repeated frames and superimpositions, so that the result is an eerie world of semi-slow motion agaisnt an aural background of incredible frenzy. Colors were superimposed over black-and-white negatives and vice-versa. An extraordinary off-color grainy effect resulted from pushing the ASA rating of his color stock; thus the images often seem to lose their cohesiveness as though wrenched apart by the sheer force of the environment.
Watching the film is like dancing in a strobe room: time stops, motion retards, the body seems separate from the mind. The screen bleeds onto the wall, the seats. Flak bursts of fiery explode with slow fury. Staccato strobe guns stitch galaxies of silverfish over slow-motion, stop-motion close-ups of the dancers' dazed ecstatic faces. Nameth does with cinema what the Beatles do with music: his film is dense, compact, yet somehow fluid and light. It is extremely heavy, extremely fast, yet airy and poetic, amosaic, a tapestry, a mandala that sucks you into its whirling maelstrom.
The most striking aspect of Nameth's work is the use of the freeze-frame to generate a sense of timelessness. Stop-motion is literaly the death of the image: we are instantly cut-off from the illusion of cinematic life - the immediacy of motion - and the image suddenly is relegated to the motionless past, leaving in its place a pervading aurea of melancholy. Chis Marker's La Jetée, Peter Goldman's Echos of Silence, and Truffaut's 400 Blows are memorable for the kind of stop-frame work that Nameth raises to quintessential beauty. The final shots of Gerad Malanga tossing his head in slow motion and freezing in several positions create a ghostlike atmosphere, a timeless and ethereal mood that lingers and haunts long after the images fade. Using essentially graphic materials, Nameth rises above a mere graphic exercise: he makes kinetic empathy a new kind of poetry." - by Gene Youngblood, Expanded Cinema, 1970
---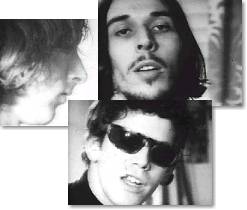 SUNDAY MORNING
Rosalind Stevenson, B&W, silent, 2 minutes, 1966
Notes: brief silent shot of John Cale, Sterling Morrison, and Lou Reed rehearsing in Rosalind Stevenson's apartment. This film was broadcasted during the 1994 Peel Slowly And See BBC TV program with Sunday Morning as soundtrack. A Quicktime™ version is also available on A Walk With The Velvet Underground Volume 2 unofficial CD box set, with a live version of Pale Blue Eyes as soundtrack.
---
MARY FOR MARY
Gerard Malanga, B&W, 16 minutes, 1966
Featuring: Mary Woronov.
Music: The Velvet Underground.
Notes: Mary For Mary is a portrait of the actor Mary Woronov, wielding her whip with customary aplomb as she confronts Malanga's camera. The Village Voice, April 28, 1966 has an ad for "An Evening of Films with Gerard Malanga" at the Film-Makers' Cinematheque on April 28, 1966 which mentions: "Excerpts from Gerard Malanga's second feature film MARY FOR MARY starring Mary Wornov Sound Track by The Velvet Underground".
---
THE CHELSEA GIRLS
Produced & directed by Andy Warhol, color and b&w, 2x16 mm, 204 minutes, Summer 1966
Dist. Film Makers' Distribution Center, Andy Warhol Films. September 15, 1966 [New York Opening]
Featuring: Ondine, Nico, Brigid Polk, Mary Woronov, Eric Emerson, International Velvet, Ingrid Superstar, Gerard Malanga and Marie Menken.
Music: The Velvet Underground. The 70-minute portion which includes the Velvet Underground music is known as "The Gerard Malanga Story". The Velvet Underground also provides the music for Reel 12, "Nico Crying" (as well as Reel 8, "Marie Menken" or "The Gerard Malanga Story"). Although the sound is off on reel 12 until the last ten minutes (while you listen to Pope Ondine on Reel 11 on the other screen), the instructions say "After Reel #11 ends, turn light off on Reel #12 but continue sound as exit and intermission music." If you rent the 16mm film, it comes with a full 33 minutes of music, but the projection instructions tell you to turn the sound off during most of it.
Audio excerpts are available on Screen Test CD/LP, Shiny Leather In The Dark LP, and A Walk With The Velvet Underground Volume 2 3-CD set.
The Chelsea Girls has been released on DVD by Rarovideo (RVD 40011, Italy, 2003)
---
THE VELVET UNDERGROUND AND NICO (a.k.a. A SYMPHONY OF SOUND)
Andy Warhol, sound, b&w, 16 mm, 67 minutes, Summer/Fall 1966
Featuring: The Velvet Underground & Nico, Ari Boulogne (Nico's son); appearances by Gerard Malanga, Billy Name, Stephen Shore, Andy Warhol, the New York Police, and others.
Music: The Velvet Underground & Nico.
Notes:
This film was shown at the 1990 Fondation Cartier exhibition.
A 6:20 excerpt was broadcasted June 8, 1991 on French La Sept TV channel as 'extra' to Songs For Drella video broadcasting.
Until Raro Video release, unofficial video copies of the 1st reel were circulating.
The Velvet Underground & Nico has been released on DVD by Rarovideo (RVD 40051, Italy, 2004)
Review:
"The Velvet Underground and Nico is a portrait of the band, recorded during a practice session at the Factory; apparently shot in January1966, it shows the goup rehearsing for what was probably their opening at the Film-Makers' Cinematheque in February. The music is an instrumental number; Nico, the German singer and actress whom Warhol introduced into the band, sits on a stool and bangs a tambourine, while her son Ari plays on the floor at her feet. The two reels contain a great deal of wild camerawork and psychedelic zooming, which indicates that this film was intended for exhibition, probably in double-screen, behind the Velvet Undergound on stage. It is easy to imagine how this footage might have looked projected in a large, crowded theater in an atmos phere of deafining music, wild dancing, and strobe lighting.
As if to authenticate the film's countercultural status, the second reel documents the arrival of the New York City police during the filming, apparently in response to a telephoned complaint about the noise level at the Factory. After a disarmingly self-conscious cop appears on screen to adjust the amplifier, the rehearsal is stopped, and the camera pulls back to show the deep space of the studio-one of the few documentary of the Factory in Warhol's films-where Warhol is seen talking with the police while the Velvets, Gerard Malanga, Billy Name, and other Factory regulars mill around."
by Callie Angell, The Films of Andy Warhol: Part II (New York: Whitney Museum of American Art, 1994), p. 27. Copyright 1994 Whitney Museum of American Art; used with permission
---
THE VELVET UNDERGROUND (a.k.a. MOE GETS TIED UP)
Andy Warhol, B&W, sound, 66 minutes, 1966
Notes: this is a two-reel set for double screen projection. In this film, Moe Tucker sit tied up with ropes, while Lou Reed, Sterling Morrison and John Cale play with food and monkey around. 35-minutes unofficial video copies are circulating.
---
THE VELVET UNDERGROUND TAROT CARDS
Andy Warhol, B&W, sound, 65 minutes, 1966
Featuring: John Cale, Nico, Susan Bottomly, Mary Woronov, Ingrid Superstar, Eric Emerson, John Wilcock, Lou Reed, Angelina "Pepper" Davis, Maureen Tucker, Sterling Morrison, and Danny Williams.
"Originally shot as background footage for The Velvet Underground and Nico during their Exploding Plastic Inevitable performances, this Warhol premiere kinetically documents each member of the band having their cards read at a big apartment party. The tarot reader is continually interrupted in her readings by the chaos created by the characters around her."
This film has been preserved through the Avant-Garde Masters program funded by The Film Foundation and administered by the National Film Preservation Fund.
Read more at warhol.org: http://www.warhol.org/webcalendar/event.aspx?id=3002#ixzz1Ns5m3ZdL
---
EXPLODING PLASTIC INEVITABLE BACKGROUND REELS
1966
Notes: this is a collection of Screen Tests reels for projection during the Exploding Plastic Inevitable shows. For further details check out: Andy Warhol Screen Tests - The Films of Andy Warhol Catalogue Raisonné by Callie Angell (Whitney/Abrams, 2006).
Review:
"These consist of assembled prints of Screen Tests and other short films of the members of the Velvet Underground and other EPI performers, including Kiss the Boot, a short film of the whip dance performed on stage by Gerard Malanga and Mary Woronov during the Velvets' song Venus In Furs. Warhol also shot about two dozen silent 100-foot rolls of these performances, including the Uptight show at the Cinematheque as well as later concerts at Rutgers University and the University of Michigan at Ann Arbor."
from Callie Angell, The Films of Andy Warhol: Part II (New York: Whitney Museum of American Art, 1994), p. 27. Copyright 1994 Whitney Museum of American Art; used with permission
---
UNTITLED
Donald Jackson, black & white, silent, 5 minutes, 1966
Notes: part of the Donald Jackson Concert Film Archive, mentioned at Research Video Inc. According to Reseach Video "the film was shot 5/2/66 in Ann Arbor, Michigan. It's 16mm black & white, silent (no music). The total length of the reel is 5 minutes, but much of that footage is of the Warhol "Mod Wedding" event with Gerard Malanga and various other performers and less than 2 minutes of the reel show the group (it is mostly Nico featured), under strobe light performing on stage - bits of Reed, Cale and Morrison here and there. There's a good shot of Sterling entering the venue with his guitar. Moe Tucker is not seen very much at all.
---
**** (a.k.a. Four Stars)
Produced & directed by Andy Warhol, color, sound, 16 mm, 1500 minutes (25 hours), 1966-67
Dist. Andy Warhol Films, Film-Makers' Distribution Center. December 15, 1967
Music: The Velvet Underground.
Notes:
**** is a twenty five hour movie made up of shorter film segments. It consists of 83 reels each lasting approximately 33 minutes.
John Cale appears in several reels shot for ****: Mary I, Tiger Hop, Barbara and Ivy, Ivy and Don McNeil, and Philadelphia Stable. Lou Reed appears in Mary I, and Tiger Hop.
In Tiger Hop, Lou Reed and John Cale play guitar and viola on-screen in the midst of a large crowd of Factory personalities.
---
THE VELVET UNDERGROUND IN BOSTON
Andy Warhol, sound, color, 16 mm, 33 minutes, 1967
Concert film capturing the influential rock band on tour. Andy Warhol Museum film preserved through the Avant-Garde Masters Grants (2008).
According to the Andy Warhol Museum, the film is color, has sound that cuts in and out quite a bit (technical problem on Warhol's end) and is 33 minutes long. Warhol filmed before, during and after the gig and condensed it to the single reel with a lot of in camera editing. There's a lot footage of the Velvets but there's also quite a bit of footage of the crowd, overhead projectors and disco balls.
The VU songs included are: I'm Waiting For The Man (0:40), Guess I'm Falling In Love (0:48) , Run Run Run (2:51), Heroin (2:18), Walk & Talk (2:10), I Heard Her Call My Name (4:30), Venus In Furs (120), Sister Ray (12:33). Sister Ray is the only track to be complete.
"This newly unearthed film, which Warhol shot during a concert at the Boston Tea Party, features a variety of filmmaking techniques. Sudden in-and-out zooms, sweeping panning shots, in-camera edits that create single frame images and bursts of light like paparazzi flash bulbs going off mirror the kinesthetic experience of the Exploding Plastic Inevitable, with its strobe lights, whip dancers, colorful slide shows, multi-screen projections, liberal use of amphetamines, and overpowering sound. It is a significant find indeed for fans of the Velvets, being one of only two known films with synchronous sound of the band performing live, and this the only one in color. It's fitting that it was shot at the Boston Tea Party, as the Beantown club became one of the band's favorite, most-played venues, and was where a 16-year-old Jonathan Richman faithfully attended every show and befriended the group. Richman, who would later have his debut recordings produced by John Cale, and later yet record a song about the group, is just possibly seen in the background of this film." - Secret Cinema - Velvet Underground Film Discoveries at Moore
---
WALDEN (aka DIARIES, NOTES AND SKETCHES)
Produced & Directed by Jonas Mekas, sound, color, 16 mm, 185 minutes, 1964-1968
Dist. Film-Makers' Distibution Center. December 1969 [New York Opening]
Featuring: Andy Warhol, Jonas Mekas, The Velvet Underground, Nico, Gerard Malanga, Mario Montez, Jack Smith, Naomi Levine, Barbara Rubin, Yoko Ono.
Music: The Velvet Underground, Nico (including I'll Be You Mirror and a long jam track, both recorded at The Dom, April 1966).
Notes: the Velvet Uunderground is shown briefly, playing at the 1966 Psychiatrists Convention. A 7 minutes excerpt was shown at the 1990 Fondation Cartier exposition.
Review (Source & author unknown):
Five years in the life of film-maker Jonas Mekas. A documentary featuring The Fugs, John Lennon, Yoko Ono, Allen Ginsberg, Andy Warhol, Velvet Underground, Nico etc. Over three hours long, it was later distributed in four separate part.
---
UNTITLED
by Steve Nelson, black & white video, no sound, 7-8 minutes, April 17, 1970
Shot at The Paramount Theater gig on April 17, 1970.
Steve Nelson: "it's not very well shot, because I was first starting to fool around with video, and this friend of mine had this camera. There's no sound. I don't know what happened. It was screwed up. We didn't know what we were doing. So I have some video of Doug singing 'Candy Says,' 'cause I can read his lips. And then it goes into 'Heroin' with Yule on drums. I probably have seven or eight minutes of video. It's very grainy, black-and-white, and kind of shaky, as we didn't really necessarily know what we were doing. This camera we were using, a Sony Portapak, was really the first that ever came out. We were just fooling around with this thing."
---
SCENES FROM THE LIFE OF ANDY WARHOL
Jonas Mekas, color, sound, 38 minutes, 1990
Music: by the Velvet Underground recorded in April 1966 at The Dom.
Notes: includes footage from the first public performance of the Velvet Underground at Delmonico's Hotel on January 13, 1966. Opening segment taped at the Dom with Nico.
Jonas Mekas says: "The film is made up of my film diaries relating to Andy Warhol from the years 1965-1982. Locations are New York and Montauk, The Factory, House of George Maciunas, Village Gate, Psychiatrist's Convention, home of Stephen Shore, The Warhol Estate, Montauk, etc. The cast includes: Lou Reed, Nico, Edie Segwick, Gerard Malanga, Andy Warhol, Allen Ginsberg, Ed Sanders, Barbara Rubin, Tuli Kupferberg, Peter Orlovsky, John Lennon, Yoko Ono, George Maciunas, Vincent Friemont, Henry Geldzahler, Paul Morrissey, Karen Lerner, Jay Lerner, Peter Beard, Tina Radziwill, John D'Allessandro, Caroline Kennedy, Mick Jagger ... and many others."
Scenes From The Life Of Andy Warhol is available on DVD as extra material in Paul Morrissey - La Trilogie - New York Underground 68-72 (Carlotta 786710, France, 2003) and in The Chelsea Girls (RaroVideo RVD 40011, Italy, 2003).
---
Special thanks to Callie Angell, Adjunct Curator, Andy Warhol Film Project, Whitney Museum of American Art.
Information on Warhol's films is also available at The Andy Warhol Museum Home Page.
Hedy, The Velvet Underground And Nico, Chelsea Girls, The Velvet Underground and The Velvet Underground In Boston are available for rental from The Museum Of Modern Art in New York.
By Olivier Landemaine
last modified: October 1, 2016
©1996-2016 The Velvet Underground Web Page